During the last couple of evenings I've done a little more work on the photography section of my site.

The first thing I added was a simple tag cloud for all the photographs. I've filtered out some obvious tags (things like "England" and county names) because they dominated the cloud.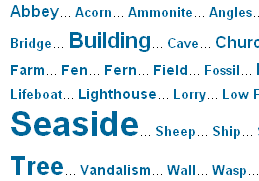 At some point in the future I'll probably do some more work on the tagging system, probably adding the ability to combine tags.
The other thing I've added, which is more of an experiment than anything else, is a simple
JavaScript
album preview facility using some
balloon tooltip code
. Now, when viewing
the list of available albums
, you can hover the mouse cursor over the album link and see a preview of one of the images it contains.